THE WEST GEAUGA KIWANIS WILL AGAIN BE
HOSTING THE
NATIONAL NFL PEPSI
(above link for official pp&k site)
PUNT, PASS & KICK PROGRAM

To sign up, all people have to do is follow this link:
To Register On-Line!
: Howell Field/West Geauga High School
West Geauga Head Football Coach Lou Cirino and members of the team will be in attendance to share their football knowledge with the participants

The West Geauga Kiwanis Club will again be hosting the National NFL Punt, Pass & Kick Competition
on
Saturday, August 20th, 2016 at 10:00 am This year's competition will be held at Howell Field/West Geauga High School which is located on Route 306 in Chesterland, Ohio.
Participation in the NFL Punt, Pass & Kick Program is free to all youngsters ages 6
thru
15, with birthdays as of
December 31, 2016
who want to demonstrate their athletic football skills. Participants may be asked to give proof of their birthday.
Boys and girls will compete in separate competition, each in five separate age groups (6-7, 8-9, 10-11, 12-13, 14-15), and will compete against each other in punting, passing and place kicking, in fun and engaging competition. Scores are read to the closest feet and inch, based on distance and accuracy.
Participants must arrive 30 min. prior to the start of the competition (10:00 am). On-Line Registration must be completed and release of liability acknowledged to participate.
All participants MUST WEAR GYM SHOES (soft soles), no cleats or turf shoes will be allowed, and no bare feet will be permitted!
The participant with the highest total score for all three events will be considered the winner. The top scoring finisher in each age group of both boys and girls at the local level will advance to the sectional competition and then on to the national level.
For further information regarding this event, please contact
Eric F. Milnar
West Geauga Kiwanis
The West Geauga Kiwanis Club meets
every Tuesday evening at 7:00 PM
at the Baptist Church on
Chillicothe
Rd. For membership information please contact Jeff Kershaw 440-729-3337 jeff@interceptpdm.com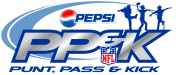 Good Luck to all the participants.